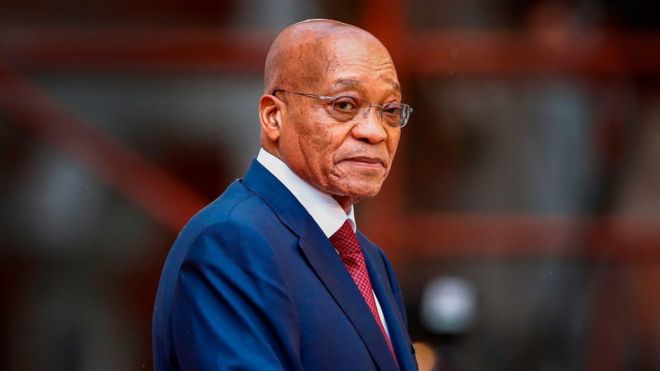 South Africa's
governing African National Congress (ANC) has formally asked President
Jacob Zuma to resign for the sake of the country.
But despite the ANC's top leadership deciding to "recall" him "urgently", the scandal-hit Mr Zuma was still in power on Tuesday.
He is expected to respond to the request on Wednesday, an official said.
He had already told them he was willing to stand down in the next three to six months, the official added.
Mr Zuma, who has been in power since 2009, has been dogged by corruption allegations.
But he has so far resisted increasing pressure to quit since December, when Cyril Ramaphosa replaced him as leader of the ANC.
'No guillotine'
Ace
Magashule, the ANC's secretary-general, told reporters the party's
National Executive Committee (NEC) decided the removal should be
"treated with urgency".
"The NEC has noted South Africa is going
through a period of uncertainty and anxiety as a result of unresolved
matter of transition," he said.
Mr Magashule said the country needed to build on the "renewed hope" felt after the election of Mr Ramaphosa as ANC leader.
"It is obvious we want Comrade Ramaphosa to come in as the president of South Africa," he added.

He said the president was expected to respond to the NEC's decision on Wednesday, although they had given him no deadline.
"When we recall our deployee, we expect our deployee to do as asked," Mr Magashule said.
ANC NEC member Lindiwe Zulu told the BBC the party will give Mr Zuma an opportunity to respond to its request.
"There is no guillotine here. He is a comrade," she said.
South Africa's opposition parties have already expressed reservations about the ANC's confidence that Mr Zuma will step down.
"The only way to remove Jacob Zuma as president of our country is for parliament to do so through a motion of no confidence," the Democratic Alliance (DA) tweeted.
It
called the motion brought by another opposition party, the Economic
Freedom Fighters (EFF), to be brought forward from 22 February so
parliament can "remove Jacob Zuma".