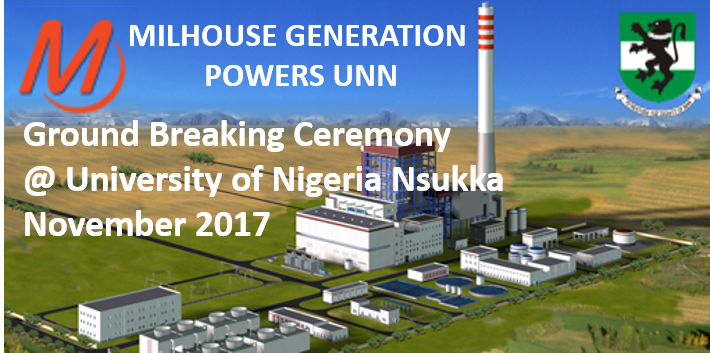 UNN POWER GENERATION PROJECT
UNN POWER GENERATION PROJECT
The University of Nigeria, Nsukka/MILHOUSE Independent Power Ground-Breaking Ceremony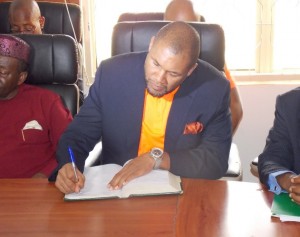 In recent years one of the serious problems affecting the quality of
academic output in the country has been the failure in having stable
electric power supply. This has affected research outputs at various
levels and as well as all other activities that are power dependent.
UNN, like all other universities in the country is not immune from this
ugly unreliable situation. These inadequacies have resulted in
university managements spending their lean resources in supplementing
the public power supply with the use of diesel powered generators.
The Vice Chancellor of University of Nigeria, Professor Chukwuma
Benjamin Ozumba, who is determined to find a lasting solution to this
age-long poor electric power supply problem has gone a step further than
the generating sets syndrome. His vision and desire to make UNN the
number one university in Nigeria and beyond in qualitative teaching and
learning as well as in infrastructural development has been driven to
establish an independent power generating station in the university. In
his quest to conquer this menace, Vice Chancellor has reached an
understanding with MILHOUSE to establish a 60megawatts coal powered
plant in Nsukka Campus.
To kick off the project, a ground-breaking ceremony anchored by the
Director, ICT/Innovation Centre, Dr. Olisa Okeke, was held at the
proposed plant site, near the Nru gate of the university on the 23rd
of November, 2017. The ceremony was attended by the Vice Chancellor,
who was supported by all the Principal Officers of the University, the
CEO of MILHOUSE and her top Management Team from America, the Igwe of
Nru Nsukka (the Host Community), members of his cabinet, and the
university community.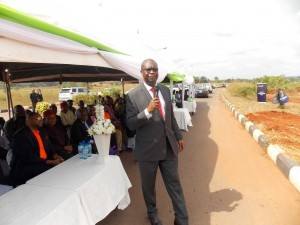 This project when completed will provide 24/7 (24 hours/7 days)
reliable power supply within the Campus and surrounding communities.
Furthermore, this project will help to achieve the following:
create employment for our graduates, students and other members of our host community.
improve the quality of students' performance by boosting academic
activities that will lead to ground-breaking research breakthroughs.
increase the visibility of the University of Nigeria globally.
impact positively on the living standards of the people of this zone,
promote economic growth and sustainable development in our Universities.
The Company has also promised to sponsor a professorial chair in the Faculty of Engineering.
Picture Panorama:
http://www.unn.edu.ng/unn-power-generation-project-2/